We have a litter of Frenchies due to arrive end of Oct.-Early Nov.2023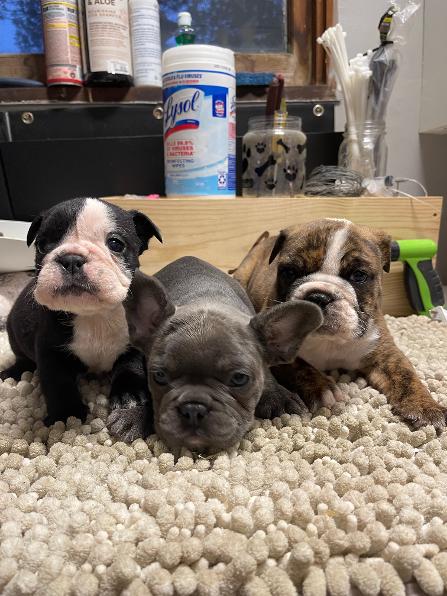 ENGLISH PUPS
There is one
female left, she is a chocolate with gold points. The color pattern of a rottweiler with some white on her front legs muzzle and chest. She should have green eyes as an adult. She is $7000.00 Please email me for pictures jenndorio6@icloud.com
All our puppies will have limited AKC registration (not including breeding rights, if interested and approved there is an additional charge)
We have a contract that includes having pet insurance for your puppy once its made it to your home. This insures we will not have to loose one of our precious babies to an accidental or unavoidable health issue. If you are interested in leaving a deposit after the litter is born, we will hold your pup till eight weeks of age for

$500.00 non-refundable deposit,

the remaining balance will need to be paid in full before delivery or pick up of puppy. We would be happy to let you call our vet (she as well as her office manager have both bought bullies from us) as a reference to the health of our dogs. Please call 831-277-1221 or e-mail me at

jenndorio

6@icloud.com for more information.




Why do Bulldogs cost so much?


Bulldogs are a very popular and photogenic breed. Bulldogs also have that great and beautiful look whether they are a puppy or adult, it's one breed that looks great at any age. Bulldogs usually (90%) of the time require a c-section for delivery of the puppies and artificial insemination to breed.


The cost to a breeder for a litter can run between $2500.00-$4500.00 or more dollars (not counting their time). Litter size average is 4. The Cost for a c-section usually starts at about $2500.00 here in CA, assuming it is during normal vet hours. After hours, weekends and holidays will run extra. The cost to breed the dog is usually around $15,00.00 to $4000.00 for the semen/stud service plus overnight shipping if that applies. Additionally, there is the bitch's pre breeding tests, exams, x-rays, insemination, ultra sounds and the like.

Then when a litter is born most of the time they must be hand helped when feeding. A breeder will spend every few hours with the litter and mother during feeding 24 hours a day for several days. Bulldogs don't make the best mothers because they may lay on a puppy on accident and not even realize it. There is other reasons besides that, but litters are at least human assisted for many days around the clock.
C-sections for bulldogs are required for several reasons like: high rates of water puppies which can't pass through the birth canal, large head and shoulders of the puppies, stress and heat factors may cause a bulldog trouble, the ability to "PUSH" out a full litter is often to much on a bulldog and other factors. It is very time consuming compared to other breeds where every thing is taken care of by the male and female dog including the birth, delivery, and raising of the litter.
This is a special breed which requires the help of humans to bring a litter to 8 weeks of age. They're worth every penny and once you have been owned by a bulldog you could never again be without one. Most breeders sell quality pet bulldogs for between $3000-$4000.00 and you can expect the breeder to be there for you with help when needed and to know what the past litters and the breeders stock shows in health problems,etc.
A good breeder will also want to keep track of the pup and will also offer you a contract to protect you both and make sure your dog is healthy or will explain its conditions. Bulldogs are very special dogs and the people who own them are just as special. I want to stress that NEVER***NEVER***NEVER*** should you buy a puppy on a discounted price with the understanding that you will breed and give back a whole litter of puppies to the breeder in exchange of a reduced rate of buying a bulldog from them originally.
That is pure and simple robbery and any breeder who try's to offer you that should be reported to the AKC, BCA, CKC and other sources. That is completely and fully wrong. (When I use the word breeder I do it very loosely in this case) It is acceptable practice in some cases to allow a single puppy or two back as part of a deal and if you agree to that or your asked to do that it is fine and normal in some cases. It is also becoming more and more less popular to own a dog under co-ownership, while it is still done and there is some benefit to it, many won't do it and recently it has become less and less accepted.

When purchasing a puppy it's important to meet the mother, this will give you an idea of what the pup's behavior and looks will resemble. Often, and with us, you can't meet the father because the stud usually lives with someone else, possibly across the nation. Ask to see pictures to get an idea of his looks and ask questions about behavior, weight, any health issues he may have. Make sure you recieve an application to register your puppy when you leave with it. Breeders that aren't prepared with that paperwork may never get it to you.

If your wanting a bulldog then get a bulldog, don't accept anything less, the breed is expensive and may cost you more down the road with cherry eye surgery, patella, palate surgery,etc. So try and get a healthy bulldog from a well known breeder or a breeder who loves the breed and it will show when you meet or talk with them.

They can answer any question and be very honest with you. The goal is to improve the breed, provide healthy and beautiful puppies that fall in the standard and ones to be proud to have offered. Stay clear of pet stores as they often inflate the prices by as much as $1500.00 or more and the dogs come from puppymills and often show health problems later in life. You have saved up and researched the breed, then wait for the perfect bulldog before buying, the good part of the bulldog is that the high price often keeps people from just buying on impulse without knowing what there getting into. Bulldogs are very special and a great breed to own, just do your homework and you will be glad you did.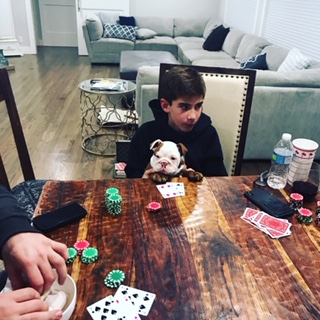 Please read above to better understand our procedures and policies. Puppies will have black noses and lips by the time they are weaned, you may notice some pink spots on there little mouths and noses as it transitions. Their body color will also change up till weaning, the color pattern, with the exception of some possible freckling, will stay the same.